Banned Substance Testing of Professional Whey Products


Professional athletes are facing increasingly stringent drug testing for substances found on the WADA (World Anti-Doping Agency) Prohibited List. They are also being advised or regulated by the governing bodies of their associated sports, not to take supplements, which haven't been independently tested. This is to avoid the inadvertent use of banned substances that could put their reputation at risk.

Due to the nature of our sponsorship with Brumbies Rugby, any Professional Whey supplements they consume have to be tested to fulfil ARU (Australian Rugby Union) regulations.
Products Tested
As a benefit to our customers (especially those of you who are professional or semi-professional sports people and athletes) we are making some of these Brumbies Rugby tested product batches available to you, at no extra charge for a limited time, due to limited stocks.
The following products have been tested. Just click on the batch number to view the test certificates for each product and its corresponding batch.
Beta Alanine - Batch 1187 - This batch is SOLD OUT.
NZ WPI Organic Vanilla- Batch 1188 - This batch is SOLD OUT.
NZ WPI Organic Cacao - Batch 1189 - This batch is SOLD OUT.
Creatine by Creapure® - Batch 1194 - This batch is SOLD OUT.
IBCAA 4:1:1 - Batch 1195 - This batch is SOLD OUT.
Tested by HASTA
The batches are independently tested by HASTA, a NATA accredited laboratory. The HASTA supplement testing portfolio is amongst the most comprehensive of its type, covering over 200 WADA prohibited substances. HASTA is a Division of Racing Analytical Services (RASL) the largest independent drug testing laboratory in Australia, specialising in sports drug testing for over 25 years. The HASTA drug list for supplement testing is shown here.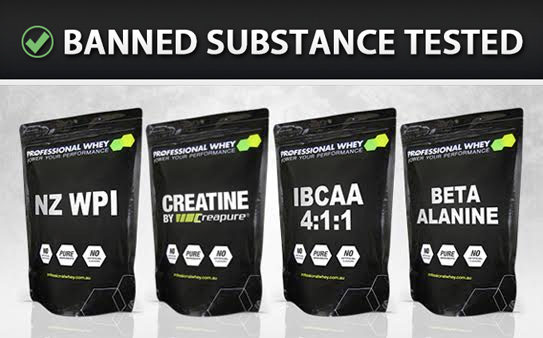 We: The Manufacturer
At Professional Whey we apply a very effective and simple 3 Step Quality Control Procedure, to eliminate poor quality ingredients which could be contaminated with prohibited substances.
1. All Professional Whey products and ingredients are sourced through our HACCP (Hazard Analysis Critical Control Point) approved supplier program. Whereby all our ingredient manufacturers must hold a HACCP Accredited Food Safety Management Certification or equivalent and all ingredients come with a Certificate of Analysis; allowing us to verify their composition and meet our internal specifications.
2. Our products are then blended, packaged, warehoused and distributed from OUR very own HACCP Accredited and NSW Food Authority licensed processing and storage facility where we adhere to the strictest of cleaning, allergy testing and food handling standards.
3. In our facility we do not blend or pack any products for 3rd parties. We blend and pack Professional Whey products only. So there is no risk of inadvertent cross contamination of prohibited substances from 3rd party ingredients.
This enables us to have complete quality control and 100% confidence in the purity of our ingredients as well as knowing exactly how much is going into our products. So we are not compromised by any third party manufacturer or contract packaging company.
You: The Consumer
If you are an athlete and possibly face being drug tested within your sport then you are free to keep a copy of the test certificate as proof from us the product has been comprehensively tested for over 200 WADA prohibited substances. For those of you who do not face any testing, these test certificates may just give you additional confidence that at Professional Whey we show due care when it comes to the sourcing, blending and packing of our ingredients along with our high quality processes.