Low Carb Chocolate Cashew Cream Protein Bar


This is one of our best kitchen creations to date. It's a super delicious nutrient dense home made protein bar......in fact you could have it as a dessert as it tastes that good. Full of wholefood organic cashews, brazil nuts, walnuts, cacao butter, desicated coconut, flaxseed meal it provides a nutritional dream of healthy poly, mono and saturated fats, vitamins, minerals, plenty of natural fibre and high quality protein. The base tastes like a chocolate biscuit and the creamy top is smooth.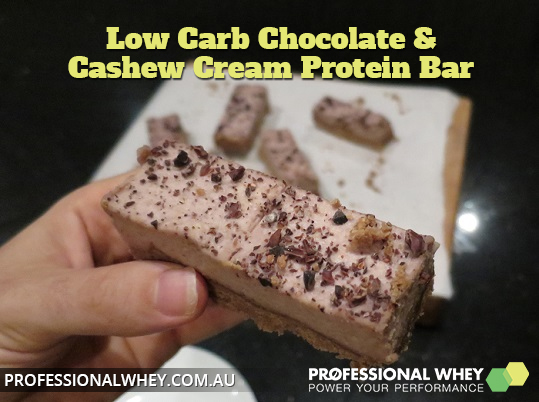 The main protein ingredient is our grass fed WPC (SELECT WPC) from New Zealand which is almost 80% protein and consists of organic cacao and natural sweeteners - thaumatin and stevia. There is no added sugars, honey, syrups or other sweeteners used. Its high in healthy fat, protein and fibre. They cost less than $2 per bar.
Makes 20 Serves
Ingredients:
180g Organic Raw Cashews
125g Organic Cacao Butter
75g Organic Walnuts
75g Organic Brazil Nut
100g Organic Dessicated Coconut
150g Organic Flax Seed Meal
150g Organic Cacao SELECT NZ Whey Protein Concentrate
Optional Topping:
10g Organic Cacao Nibs
Directions
BISCUIT BASE
1. Blend for 2 minutes 50g Walnuts, 50g Brazil Nuts, 100g Dessicated Coconut, 150g Flax Seed Meal
2. Add 150g Organic Cacao SELECT WPC and blend for 1 minute.
3. Melt 100g of Cacao Butter and add into food processor and blend for 2 minutes.
4. Pour evenly into the bottom of container and place in freezer to cool and set for 10 minutes.
CREAM FILLING
5. Blend for 2 minutes 180g Cashews, 25g Walnuts, 25g Brazil Nuts, 150ml water
6. Melt 25g of Cacao Butter and pour into food processor and blend for 2 minutes until nice and creamy.
7. Remove the nut cream from the food processor and pour/spread evenly on top of base.
8. Add Organic Cacao Nibs (Optional).
9. Refrigerate for 1-2 hours until hard, then chop into 20 bars.
PREP TIME: 10 MINS
COOK TIME: 15 MINS
APPROXIMATE NUTRITIONAL INFORMATION

| | | |
| --- | --- | --- |
| Low Carb Chocolate Cashew Cream Protein Bar | Per Recipe | Per 43g Bar |
| Energy (kJ) | 20456 | 1043 |
| Calories | 4889 | 245 |
| Protein | 225g | 11.3g |
| Fat – total | 401.4g | 20.1g |
| - saturated | 171.7g | 8.6g |
| Carbohydrates | 72.15g | 3.6g |
| Carbohydrates – sugars | 32.7g | 1.7g |
| Fibre | 92.95g | 4.7g |
In less than 25 minutes you will have prepared an awesome home made protein bar which is free of cheap ingredients, poor quality protein, artificial sweeteners, fillers and compared to what you find off the shelves these protein bars are less than half the price and have at least triple the goodness.....Enjoy:)